Joseph N. Mondello
February 13, 1938 – August 1, 2022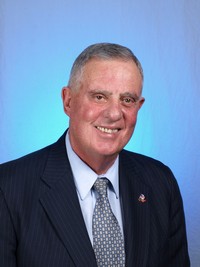 It is with profound sadness and an immeasurable sense of loss that our family at Berkman Henoch must announce the passing of our partner, mentor and friend, Joseph N. Mondello on August 1, 2022.
Ambassador Mondello will forever be remembered as a true giant and inspiration to all those who had the privilege to know him.  As a proud member of the United States Military, Major General in the New York National Guard, a Councilman and later Supervisor for the Town of Hempstead, Chairman of the Nassau County Republican Party, Chairman of the New York State Republican Party, and later as United States Ambassador to Trinidad and Tabago, Ambassador Mondello lived a life committed to the service of others.  His deep abiding faith in and love of the United States of America serves as a shining beacon for all as we face the countless challenges confronting our nation at this time.
Although he lived a life surrounded by the most powerful and influential men and women of our time, Ambassador Mondello never overlooked that it is the average citizen who must never be forgotten.  He was always willing to lend a hand to those among us who needed it the most.  No favor asked of him was ever too large or too small and in his unending service to all who had the privilege to encounter him, he set an example for all of us to emulate.
Ambassador Mondello was a man of deep faith and love for his family.  We ask now that his faith be rewarded.  To his children and his beloved wife, Linda, we offer our deepest condolences and prayers during this difficult time.  Rest in peace dear friend, for you have fought the good fight and finished the race.  2 Timothy 4.7